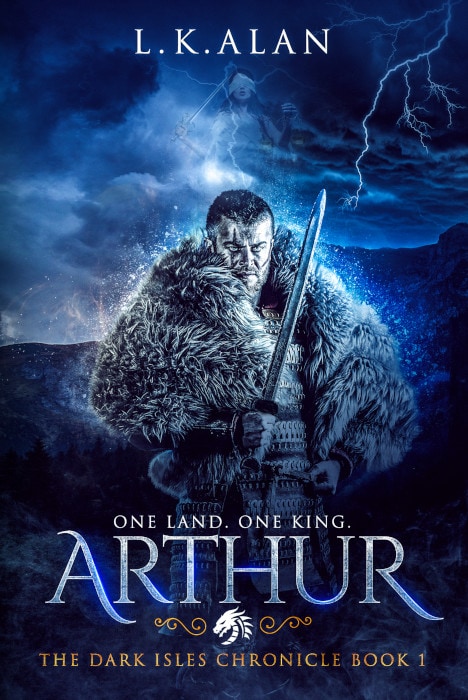 By L.K.ALAN
The Dark Isles Chronicle Book 1: Arthur
FAQ
 Q: What is the Dark Isles Chronicle about?
The Dark Isles Chronicle re-imagines the timeless arthurian legend as a dark fantasy set during the fall of Rome in Britain. In book one of the series entitled: "Arthur," the reader is introduced to a unique retelling of the story, featuring many of the characters from the legend and wider Celtic folklore.
There is also a strong sense of historical realism for the late Roman period throughout. However, please keep in mind that the Dark Isles Chronicle is a fantasy first and historical fiction, second. The accuracy is intended to be good enough to pass muster with an amateur enthusiast. It is not supposed to hold up under serious scrutiny by a professor of antiquities. Having said that, I've done my best to research the period, and would welcome any feedback if you think I've not got things quite right.

The world of T.D.I.C is a very close mirror of our own, but with important differences. Not least of which is magic! I also reserve the right to change the timeline and nature of actual historical events for dramatic purposes.
This action-packed retelling of the Arthurian legend contains elements of fantasy horror along the way.
Q: When will the book be released?
The e-book is now available from Amazon. The paperback launch will follow soon.
Q: What formats will the story be available in?
Initially, e-book and paperback.
Q: And audio?
An audio book version is planned. However, this is at the early stages. Please re-visit the website in a few months for an update.
Q: Where will I be able to purchase the book?
The e-book is available via Amazon.
The paperback will be available on Amazon and via Ingram in various outlets.
Q: Will the Dark Isles Chronicle be available in my local library?

By far the best way to get the story stocked in your local library is for you to contact them and request it. On your library's website (or in person) there is usually a form where you can request a book be purchased.
Q: Is book two available?
Not yet. But it will be in due course.
Q: Erm, back to book two, when exactly?
There is not a specific date set as yet, but it will be done as soon as possible. Suffice to say that as I write this in late August 2019, we are looking at months, not weeks.
Q: I noticed there are short snippets in foreign languages in the story. What are the languages?
The story is written in English, but there are three other languages referenced: Irish Gaelic, German and Latin. These are very short and sporadic in nature and are only designed to highlight cultural differences between characters. The actual languages of the period would have differed greatly from anything spoken today (other than Latin), and subject to a level of academic study well beyond the limited realism intended by the author.
Translations are available at the back of the book.
Q: Irish, not Welsh?!
Yes, as stated above, the actual languages used in antiquity would have been very different, regardless of which later descendent was used. I think Welsh is a beautiful language, it's just that the exact words required in the story, seemed to resonate better in Irish Gaelic to my poorly trained Anglo-Saxon ear (I don't speak a word of either language, btw). When faced with a difficult decision, the reading experience for most readers has been the overriding factor.
Having said all the above, please feel free to drop me an email if you feel strongly about this point and I'd be happy to correspond over the subject. This was a difficult conclusion to reach, not least of which because of the strong Welsh connection to the Arthurian legend.
Q: Is this King Arthur book suitable for children?
Absolutely not. This Arthurian tale contains scenes that would likely be certified as 18+ if shown in a movie.
The Dark Isles Chronicle contains graphic violence, very strong language and descriptions one would expect to read in fantasy horror books.
Q: Will the book contain historical notes?
Yes, some. Enough to cover the major themes at least, plus a list of place names with their modern equivalent.
Don't forget to sign up to my newsletter and get your free beautifully illustrated PDF version of Merlin's map. This is an accurate representation of Britannia during the late period of the western empire, and the perfect way to follow the journey of Arthur as the story unfolds.
Q: Can I get free bonus content?
Yes, if you sign up to Lee's newsletter you will receive a free colour PDF of Merlin's map. This is an accurate depiction of Britannia.
You will also receive three free bonus chapters.
Please read our privacy policy if you have any queries about how your data is handled by us. In summary, it will never be shared with any third parties without your explicit agreement to do so, and Lee will not send you news updates more frequently than once per fortnight.
Q: I've read several King Arthur books. Does this one contain the knights of the round table?
Yes, well, sort of. But maybe in a way you've never experienced the Arthurian knights before.
Q: Does the story contain other Arthurian legend characters or objects? For example, what about Excalibur or Uther Pendragon?
Ok, we are getting close to spoilers here! Why not buy the book and find out for yourself!
Get A Free Illustrated PDF of Merlin's Map and Bonus Chapters!